Greg Krehbiel
Quick Links
Greg Krehbiel on Amazon.com
Crowhill Publishing
The Crowhill Weblog (blog)
Home Brew Beer (blog)
Greg Krehbiel on Marketing and Publishing (blog)
Kindle Direct Publishing Lessons Learned (blog)
Professionally, I am a publishing industry veteran and occasional speaker on marketing, technology, product development and other issues, usually for the Specialized Information Publishers Association. Recently my focus has been on mobile and digital publishing.
This is what my business card ought to look like.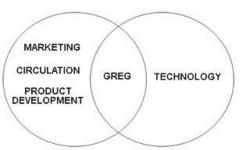 On a personal level, I am a husband and father, an avid blogger, a homebrewer, a jogger (when my knee isn't hurting), a fisherman when I can, an out of practice black belt, and a fiction writer whenever I can squeeze in some time with the laptop. You can see more about my books at my Crowhill Publishing page, or on my Amazon.com profile.
There's a silly caricature of me on a nice summer afternoon.
I love to write. Too many crazy things are boiling around in my head all the time, and while I like quiet time alone to think, I have to get it out -- even if nobody ever reads it. I have acres of stuff on my hard drive that nobody will ever see.
Recently I've been listening to podcasts. My two favorites are The Partially Examined Life and In Our Time. If you're philosophically inclined, I definitely recommend the former. I recommend the latter for anybody. It's a good show about all kinds of issues.
I'm on Facebook and LinkedIn, and while I do have a twitter account (@gregkrehbiel), I think Twitter is pretty stupid and I don't do much with it.
---