If it works, do it again
I'm not a golfer, but I heard an old guy talking about the advice he used to get from a friend who was a golf pro. He'd see the pro in the locker room, and the pro would ask, "Is it working?" The old guy would say, "It's working," and the pro would say, "Keep doing it."
Obvious, right? Along the lines of "if it ain't broke don't fix it." (The old golfer's point was that Americans are practical and are more interested in results than methods.)
There's an analogy in publishing, which my friend Ronn Levine mentions in this post: Taking a Publishing Cue From Hollywood Sequels.
If you have created a successful initiative — be it a webinar, white paper, daily publication, etc. — it makes sense to offer people some sort of part 2 or next chapter.
This reminds me of a chart I prepared for a talk about product development.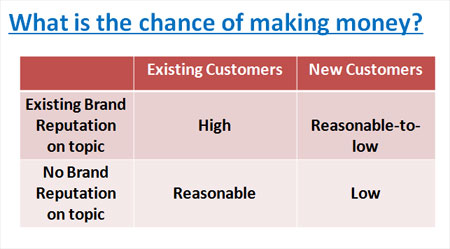 The idea is that your best customer is your current customer, and the best topic to cover is something you're known for. If you launch a new product on a new topic, people who know and trust you are better prospects than people who don't know you. And if you launch a new product, on a new topic, to a completely different audience, you have very little going for you.
Or, as Ronn would put it, write a sequel.
Your best options for product development are spin-offs from existing publications. Dig deeper into the topic you already cover, or branch out … but not too much. The closer you can stay to your current customer and your current expertise, the more chance you have to succeed.